Article
Take action to create a national hotline
The successful prevention and removal of Child Sexual Abuse Material (CSAM) online requires many stakeholders and a national hotline. A national hotline is responsible for building key connections with stakeholders from government, law enforcement, educational institutions and online platforms.
A local presence is crucial for addressing child sexual abuse and exploitation. This presence forms the foundation needed to effectively combat these issues by establishing a strategic focus. You can learn more about this approach in the WeProtect Global Alliance Model National Response.
Whether you are in the process of creating a task force or adding a hotline to your existing measures aimed at addressing CSAM, a hotline can play a vital role in several ways. It can help raise awareness about the presence of online CSAM and the methods used to create it. Additionally, it serves as a preventive measure to reduce the risk of revictimization.
How does INHOPE support your organisation?
The Network Expansion team at INHOPE guides organisations currently in the process of developing a new hotline.
Regionalisation Tool: The initial process begins with the Regionalisation Tool used to identify where the establishment of a hotline needs to be prioritised.
Quarterly Seminar: After determining that your country needs a hotline, we recommend key stakeholders view our introductory seminar - copy available on request.
Hotline Creation Timeline: We create a custom timeline that outlines all the crucial steps you need to know.
Support documentation: We provide several tailor-made documents for organisations wishing to establish an INHOPE hotline, such as a Business Plan for Sustainability, a Letter of Collaboration and Commitment, One Pager with Cost Estimates, a template Memorandum of Understanding (MOU) and a Organogram Template.
Getting started!
The process of setting up a hotline varies from country to country, complete our contact form to start your journey.

Determining if my country needs a hotline?
Every country must have a dedicated national hotline to which the public can report URLs of any images or videos of child sexual abuse. As we expand the INHOPE Network, we are focused on high-risk areas for CSAM production and hosting. We determine target countries using our own country assessment framework and our target list always includes major internet usage expansion zones (Asia Pacific, South Asia, Latin America & Africa and MENA) as this is a vital factor in the removal of CSAM online. The INHOPE Network operates across six continents and includes hotlines in countries fighting against some of the highest levels of hosting, such as the Netherlands, the United States of America, and France.
We know and understand that creating a national hotline is a complex process and involves many stakeholders. It requires significant time and dedication. Fill out the contact form so we can take the first step.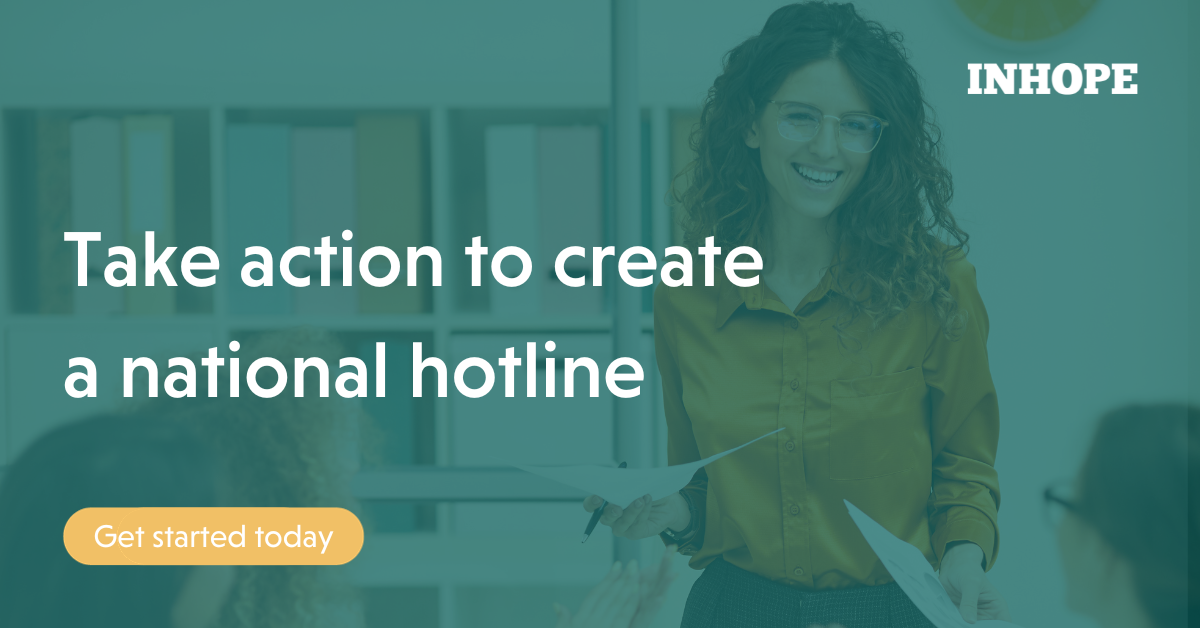 '

Talk to our Network Expansion Team - complete our contact form

'